Abstract landscape photographs – about the Satellites images – Kenneth Rimm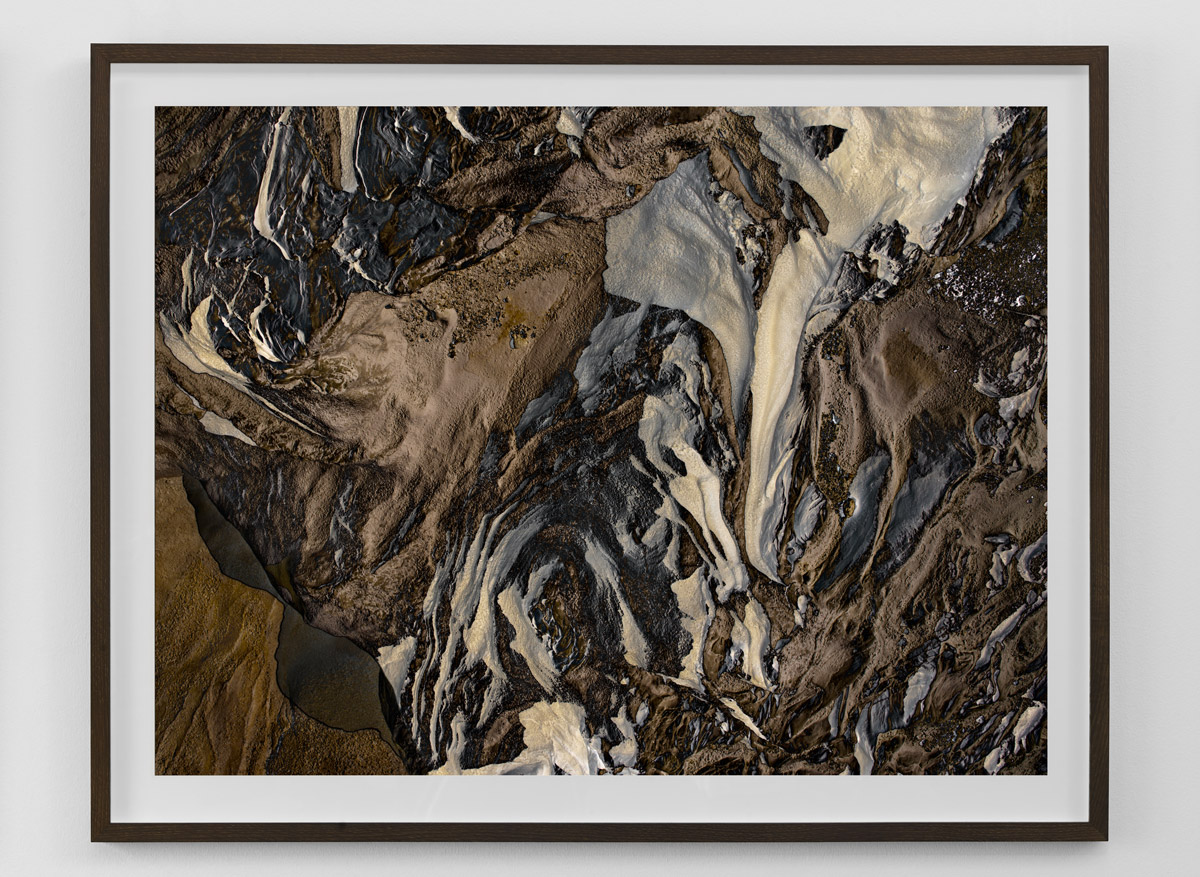 Satellites print size 80×101cm (image size 70×91cm) / 31,5×39,76 in. (image size 27,56×35,8 in.)
© Kenneth Rimm
Satellites is an ongoing series of abstract landscape photographs inspired by the way the earth & other planets are seen from space.
Like satellite images, all works are photographed straight from above. This creates a unique view, with an almost equal sharpness throughout the image.
On a distance the images look like aerial abstract landscapes. But up close you see natures amazing details, and how life on earth is build.
The colors, shades & shapes are based on natures own, but reworked more like a abstract painting, that builds on reality, but is taken a step further into the imaginary world.
Satellites are primarily photographed in Sweden, Denmark and other European countries. The image above is from the greek island of Milos.
All images are photographed without any sense of scale, and comprises of various things & patterns found in nature & beyond.   
Started by accident
The Satellites series literally started by accident. I had rented a house in Sweden for a 10 day shoot, to make images for another series, which required quite a lot of equipment for a one-man show. On the day of arrival I went out scouting for locations, and had a pretty bad fall, on my way down some wet stone stairs. 
The images I was planning to make in the first place was intended to be shot on film, only using my digital back for composition, testing & backup.
Besides the general overview of the locations, I also made a few digital images of interesting structures I came across.
Though they never made it in the final edit, they laid the ground work for the series as a whole.
In the evening, after a few hours playing with these images in the computer, I knew I was on to something new & exciting.
I quickly realized that I needed to take the next day off to recover. But also that I had no chance of carrying all the stuff, that was needed for the images I initially had intended.
So I cut things back, to what I could carry in my backpack, and went out the day after.
Seeing things in a different light
Some images are close-ups of tiny patterns, which often take quite a while to capture. Mainly due to the very rocky surroundings I needed to place & stabilize  the camera on the tripod, to obtain the sharpness throughout the image. It's also quite hard on my back & knees, and I'm pretty beat up after a day of this.
Others are larger scale, and I usually took a full day of each every other day. Primarily to work a bit faster & freer sometimes. But also to change my perspective of things and keep my eyes & mind open.
I mostly stayed in the same small spot for an entire day & I often found myself  discovering new images, that I thought I had overlooked. But it almost always occurred to me, that I had been there a few hours earlier, or the day before, when it looked completely different.
Although I visited the same places again and again, it was always new. But also the light, weather & the time of day, changed the landscape by the hour.
You get to know nature, like with people you spend time with. Even with the same weather etc, images can take on very different "faces" just a few hours later.
Therefore I have often revisited & photographed the same places again & again, with totally different result.
Trial & error
Though it always take a good picture to make good print, these images are for the most part created in the studio. Initially through a lot of playing around with many different images & settings. Often it works the best in the evening, when I'm starting to relax & get tired. Only using my intuition, and not worrying about making things perfect.
Later when the overall look of the images is found, often out of hundreds of images & trial and error, the work of refining & adjusting will take place, lasting several weeks & month. Sometimes even years before they are ready to print, or to reject.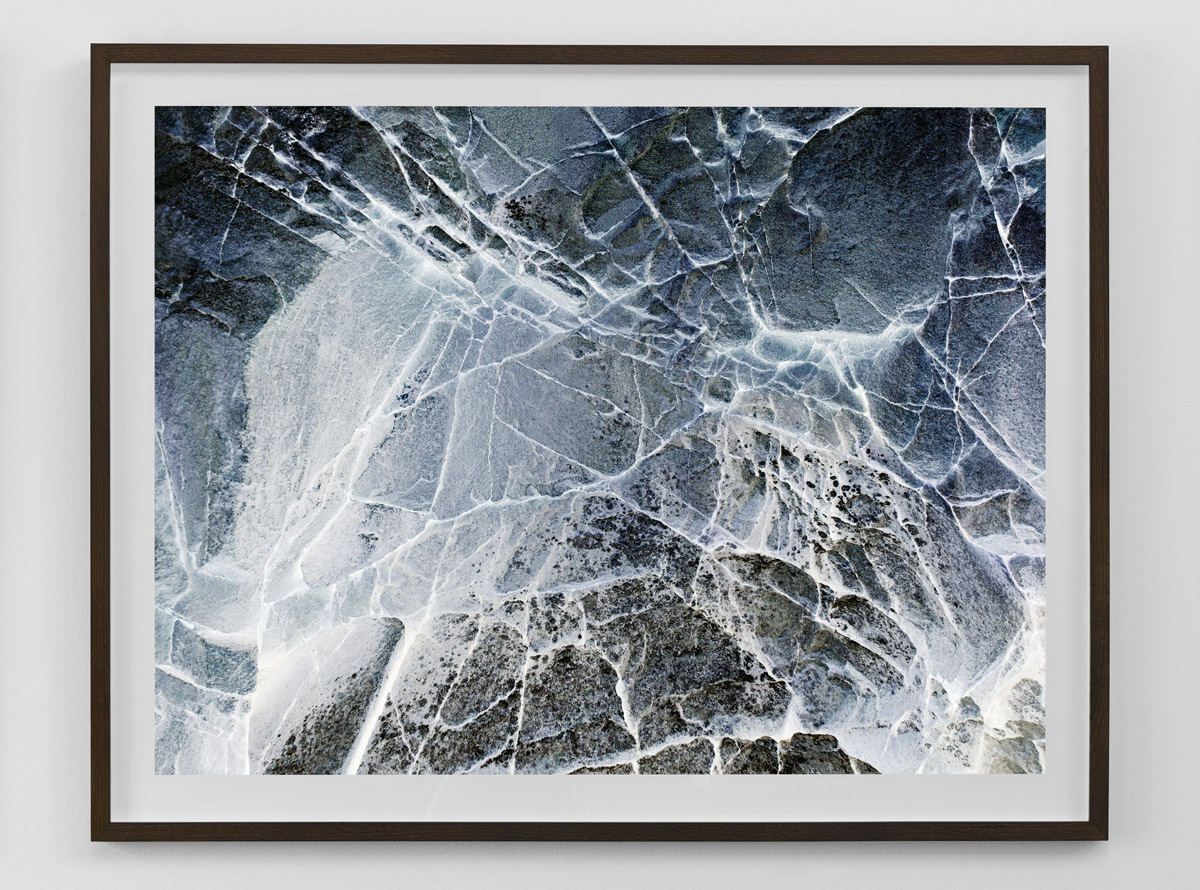 Satellites print size 80×101cm (image size 70×91cm) / 31,5×39,76 in. (image size 27,56×35,8 in.)
© Kenneth Rimm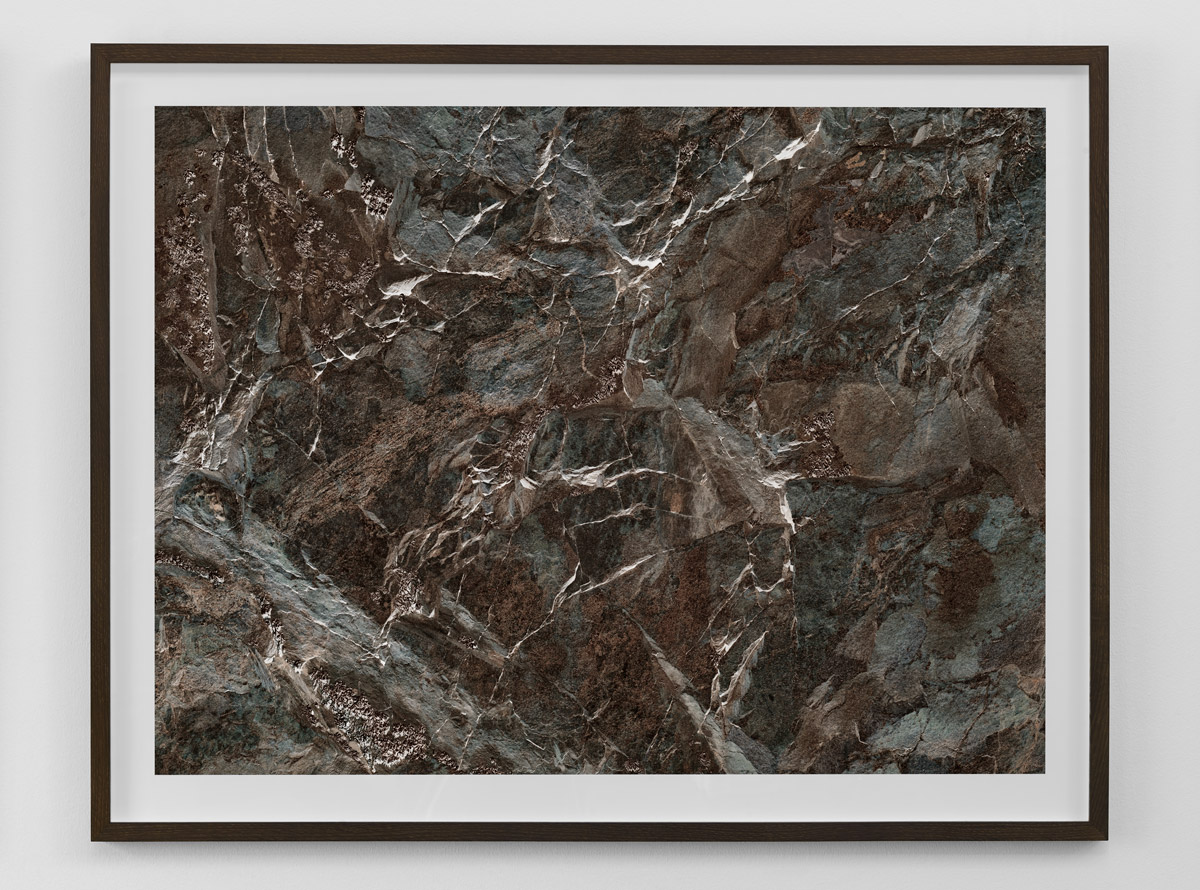 Satellites print size 50×63cm (image size 40×53cm) / 19,7×24,8 in. (image size 15,75×20,86 in.)
© Kenneth Rimm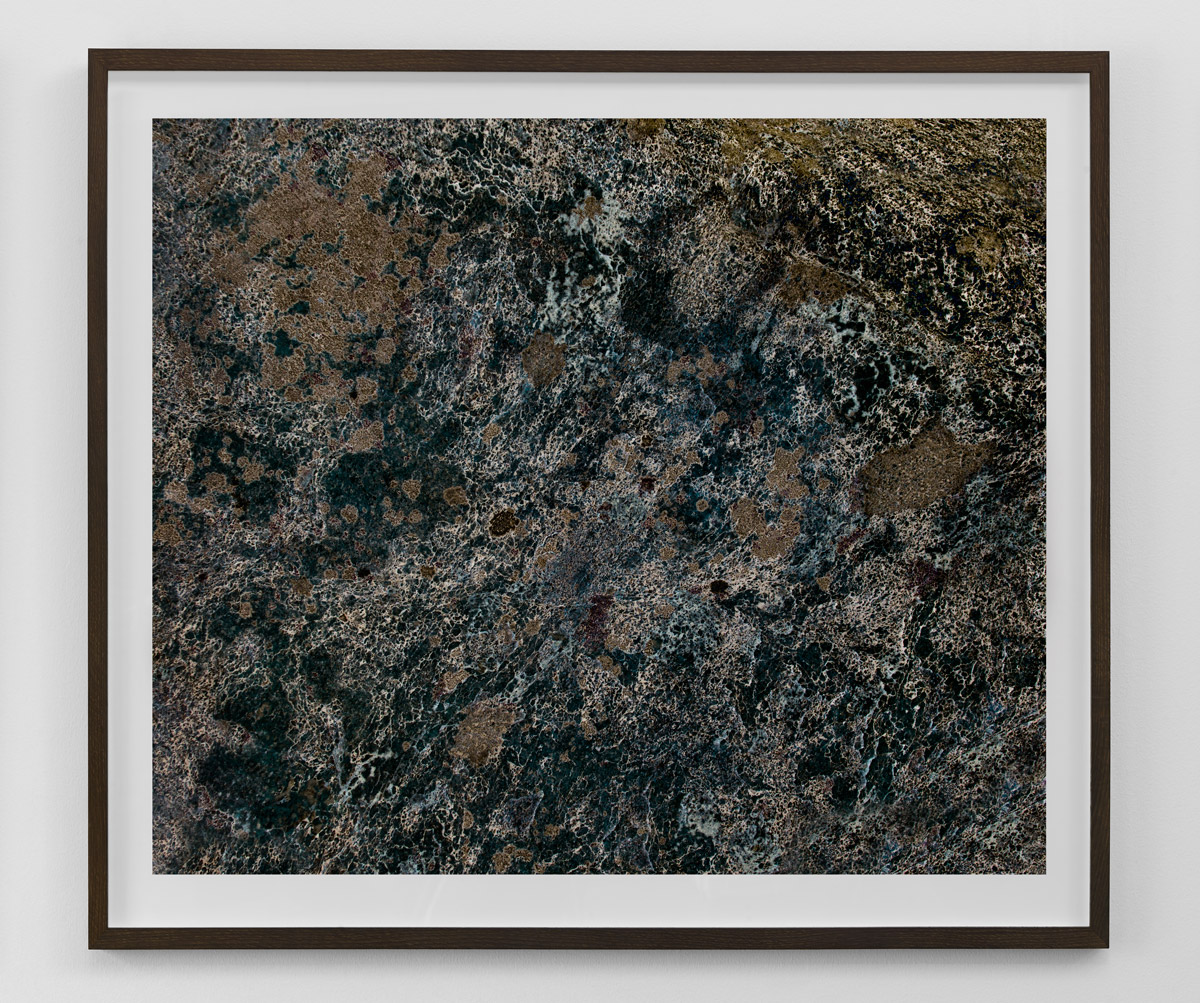 Satellites print size 50×57cm (image size 40×47cm) / 19,7×22,44 in. (image size 15,75×18,5 in.)
© Kenneth Rimm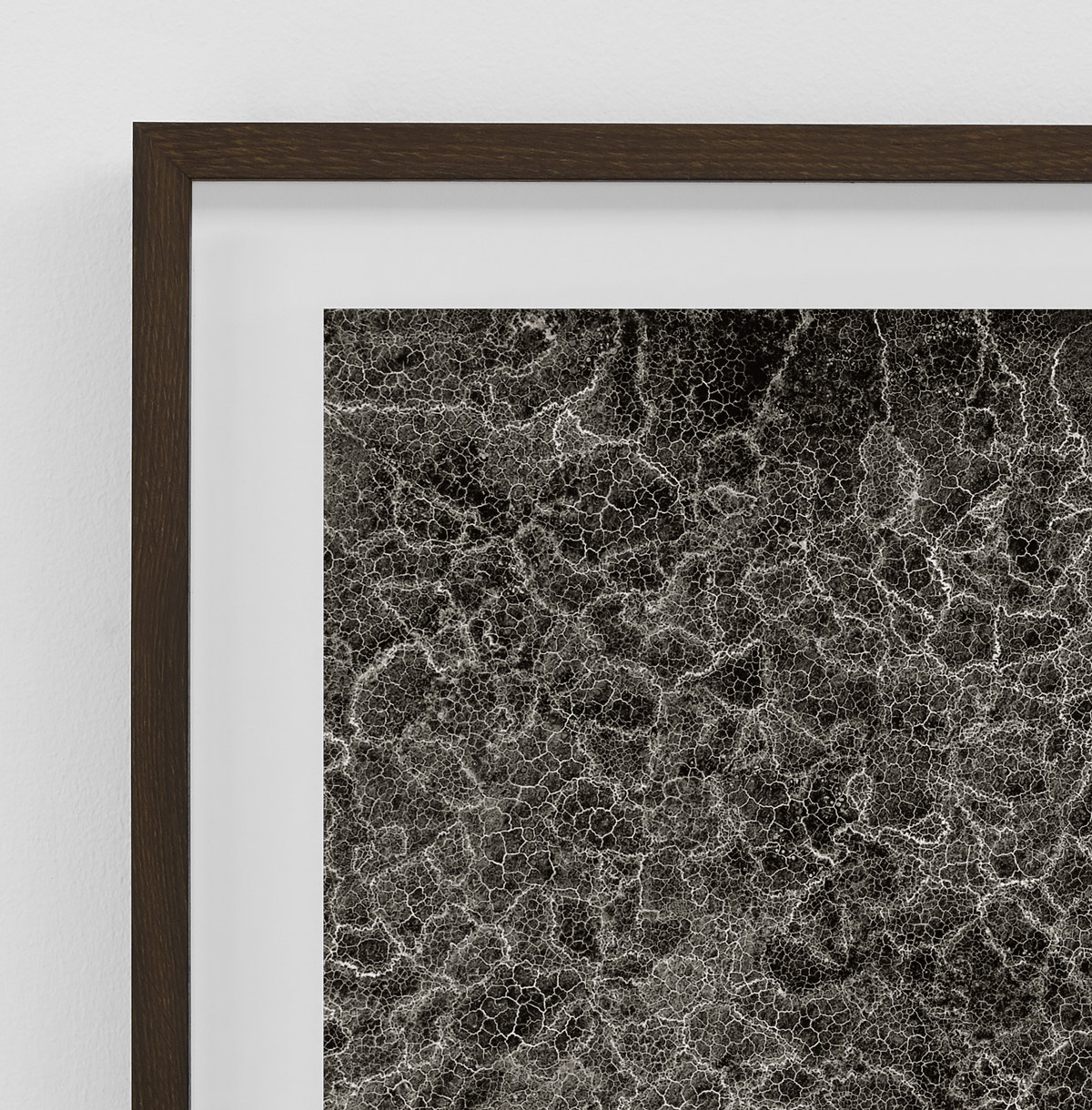 Detail of Satellites print size 55×85cm (image size 45×75cm) / 21,65×33,45 in. (image size 17,7×29,5 in.)
© Kenneth Rimm
Installation view from the Satellites photography exhibition during Copenhagen Photo Festival
All exhibition prints above are framed in solid smoked oak on Dibond mount. The whole stem of the tree is used, which makes each frame unique, showing all the texture & growth rings of the tree. Bringing back natures own materials, back into the final piece.
Prints are made on Hahnemühle Photo rag, a beautiful matt paper, with a slightly rough surface. 
For inquiries about available edition sizes & pricing please contact us, or visit the buy prints section for general information
Text & photographs © copyright Kenneth Rimm 2022