Abstract smoke from a fire – about the Wildfire images – Kenneth Rimm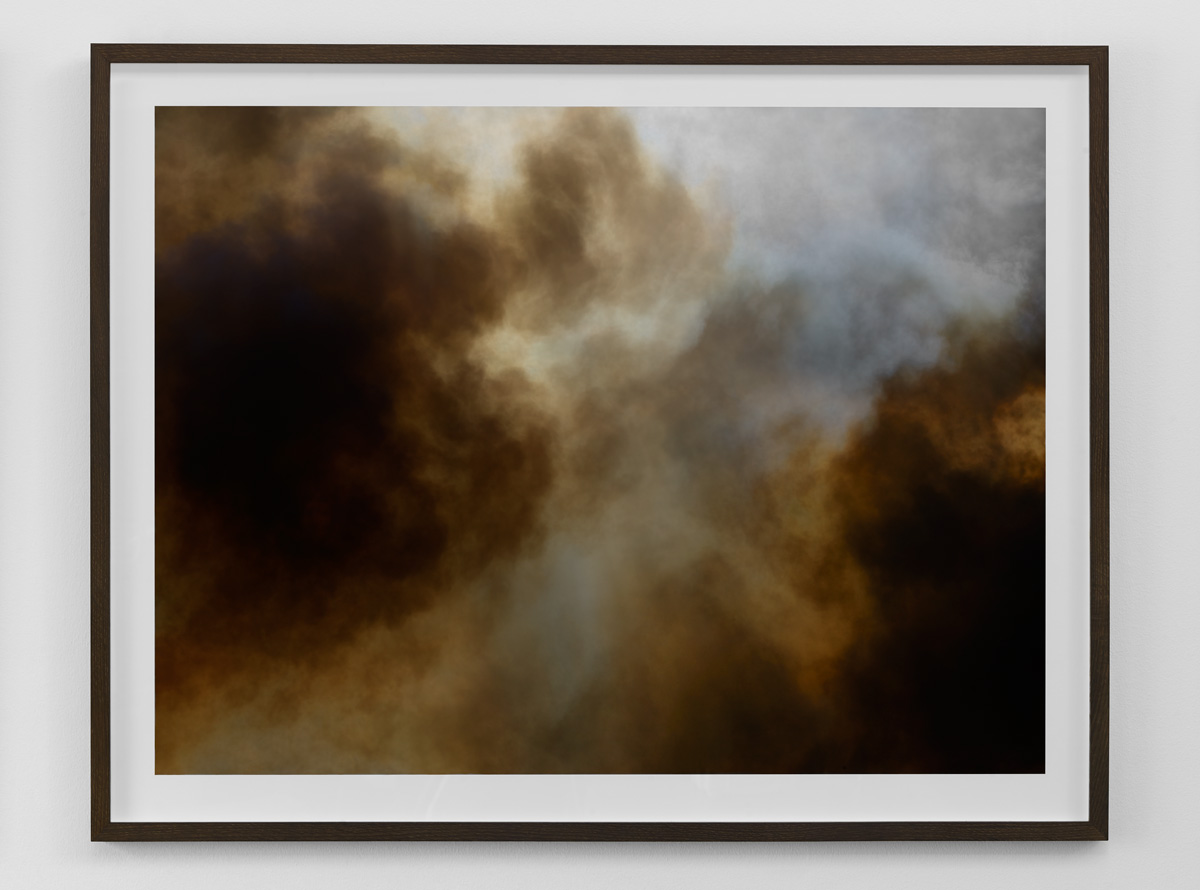 The Wildfire series comprises of abstract photographs of fire & smoke from a fire on a field.
Images created out of coincidences, but at the same time they reflects a time in life, where all seemed black & hopeless.
The contrast between the pitch black smoke & the beams of sunlight, constant fight to gain power without luck.
Swirls of smoke, fire & clouds in the strong wind constantly created abstract images in the sky, replaced by the next seconds later.
The fire started quickly & was over a few hours later, like life that can seem long & chaotic, but is fragile & short.
Like the Satellites series the abstract shapes & colors are enhanced & reworked more like an abstract painting.
The Wildfire series were photographed very quick & spontaneous, very much like the fire started.
Usually my images are in a very long process from idea to the final fine art print. But in this case I had to seize the moment, before it was too late.
The light disappeared
I was inside working on a hot summer afternoon when, when the room suddenly became strangely dark. 
Outside the window, a large black cloud of smoke filled the sky. At first glance it looked as if the whole neighborhood was on fire. 
Slightly surreal and shocking, but most of all I thought it looked pretty amazing. A nearby field was on fire & because of the strong wind, it was spreading fast.
I quickly grabbed the camera and a few lenses, and jumped on my bike to find a good spot. Which turned out to be more difficult than I first thought. 
My first attempt was on a motorway bridge, but that was the completely wrong angle, and way too far away.
But from there I could get an overview and see where it would work better. Which meant I pretty much had to go back to where I came from.
Unfortunately, I now stood behind a noise barrier, and a couple of trees that I had to shoot around.
One image at a time
The strong wind and the fact that I couldn't see the fire itself, or how far and how fast it spread, made it difficult to put it mildly. 
The camera I used is completely manual & without auto focus, & therefore not exactly built for action photography.
When I looked in the camera, it was very difficult to see what I was doing, because I had the sun against me. But I could clearly see the possibilities when I looked outside the viewfinder, through my sunglasses. So I ended up with a kind of weird combination of both.
The images came in small fast waves, carried by the strong wind, and I had to quickly and instinctively predict exactly where and when, I could catch the next one.
I shot as fast and as much as I could, with the limitations the camera has. But it was more or less one image at a time.
I was pretty energetic when I came back, and very excited to see if I had something usable. So I started working on the images straight away, and released them on my website, as soon as I was happy with them, without worrying too much about the details. As a kind of open sketchbook of the final images.
Using my immediate energy & excitement to play with the images, instead of saving them until they where completely finished, as I would normally do.
Making the final prints
There is however a big difference between the immediate & smaller web versions and a perfect large scale print.
When the time came to make the final prints, I spend several weeks working on them again, before they were ready to print & frame.
Each image is created by combining soft & contrasty layers of the same image. Mixed by using countless small brushstrokes in various sizes & densities,
to bring out the shapes & details of the clouds & smoke. All images are revisited & refined again and again, as the series progressed to match & compliment each other, like pieces of music on an album.
The cause of the fire is still unknown & luckily no one was harmed.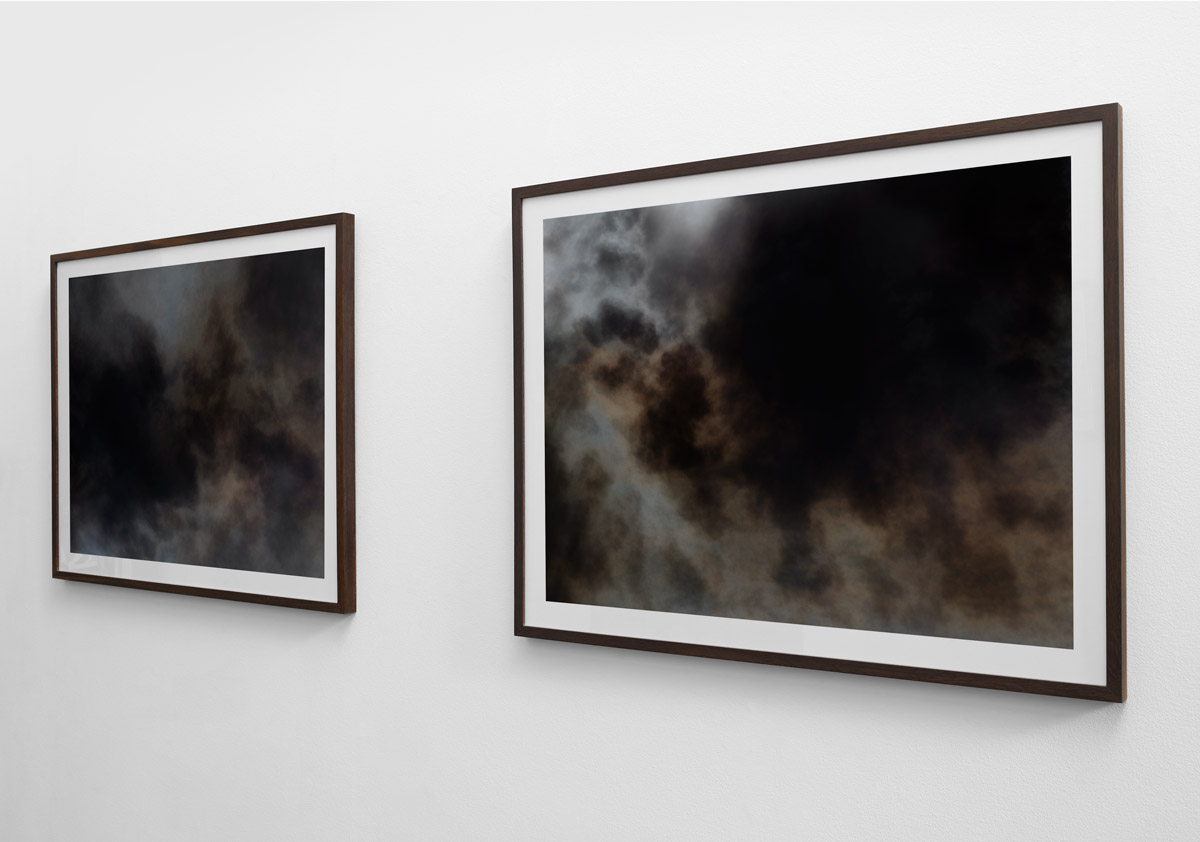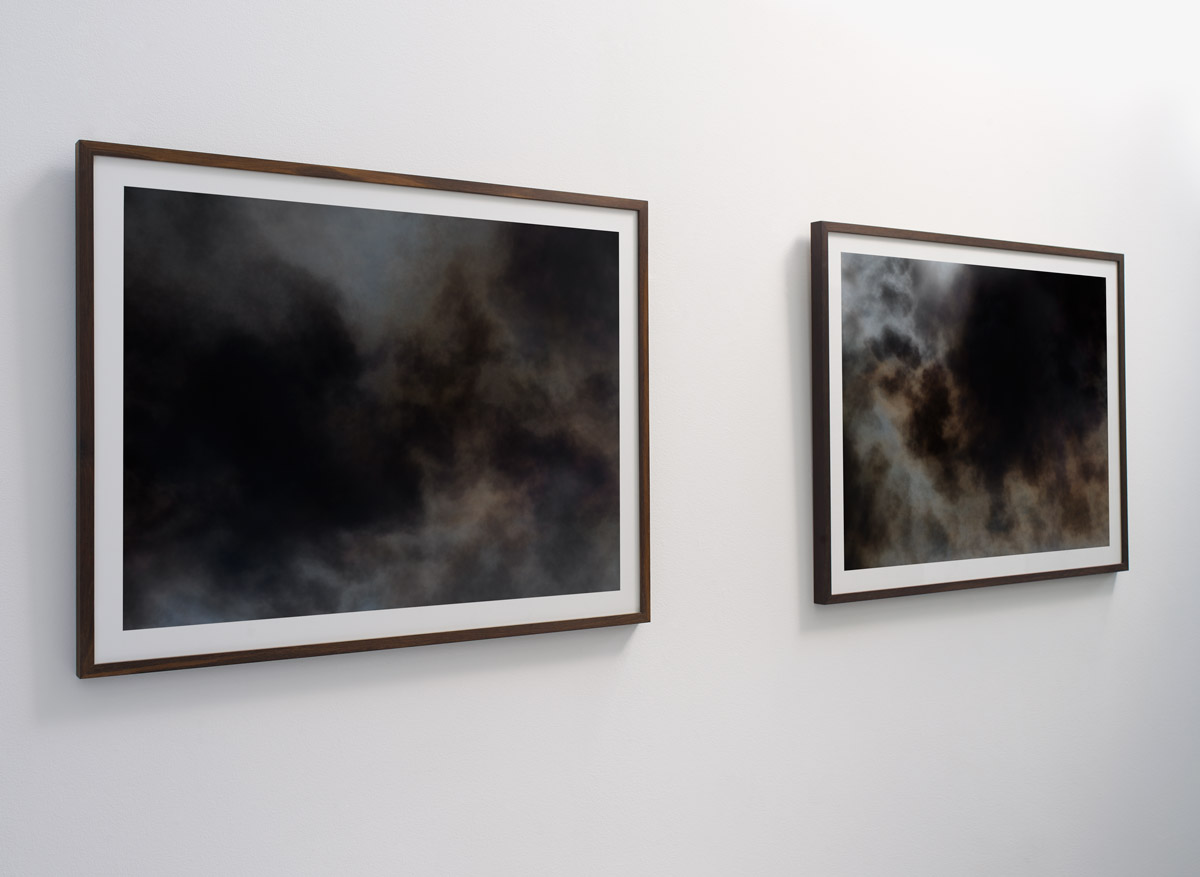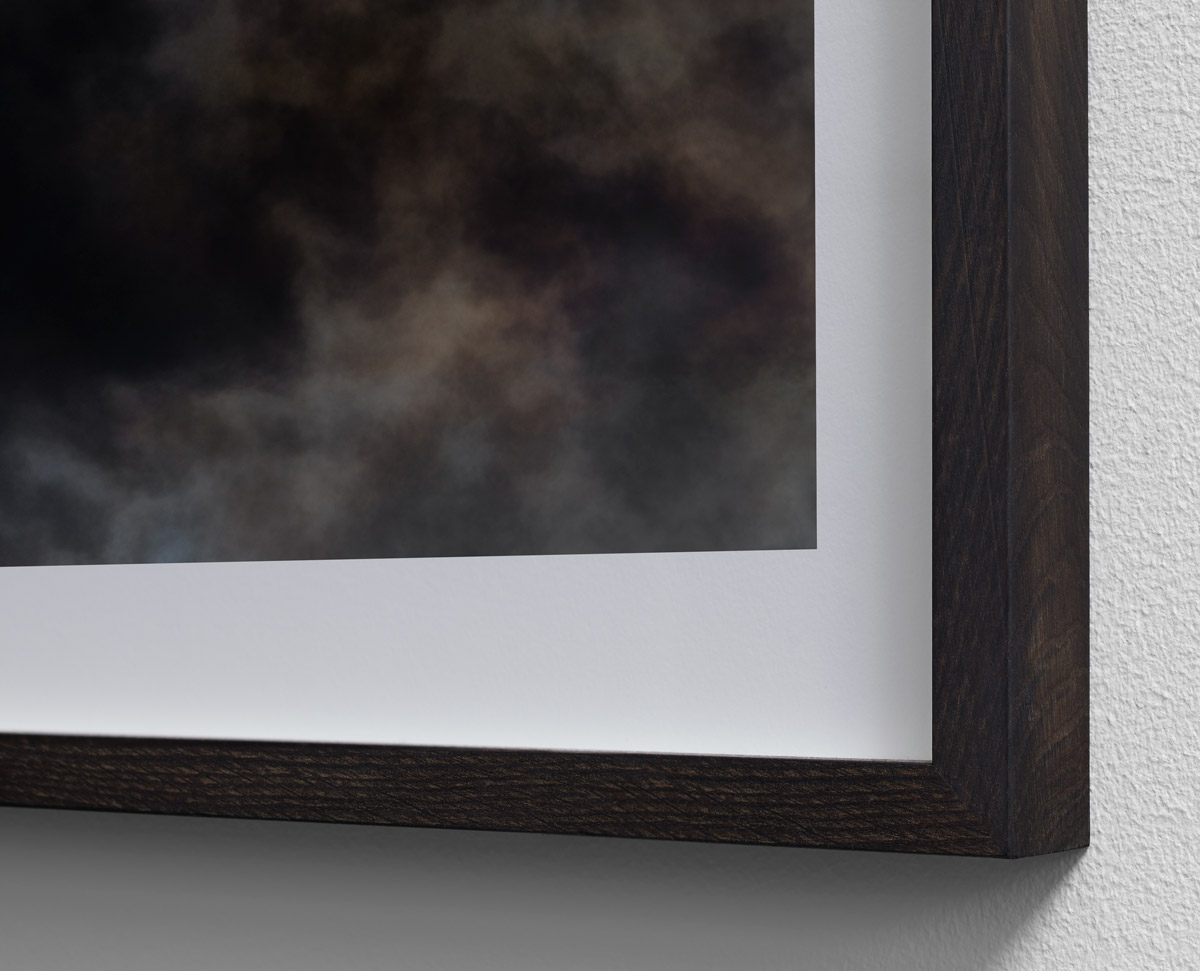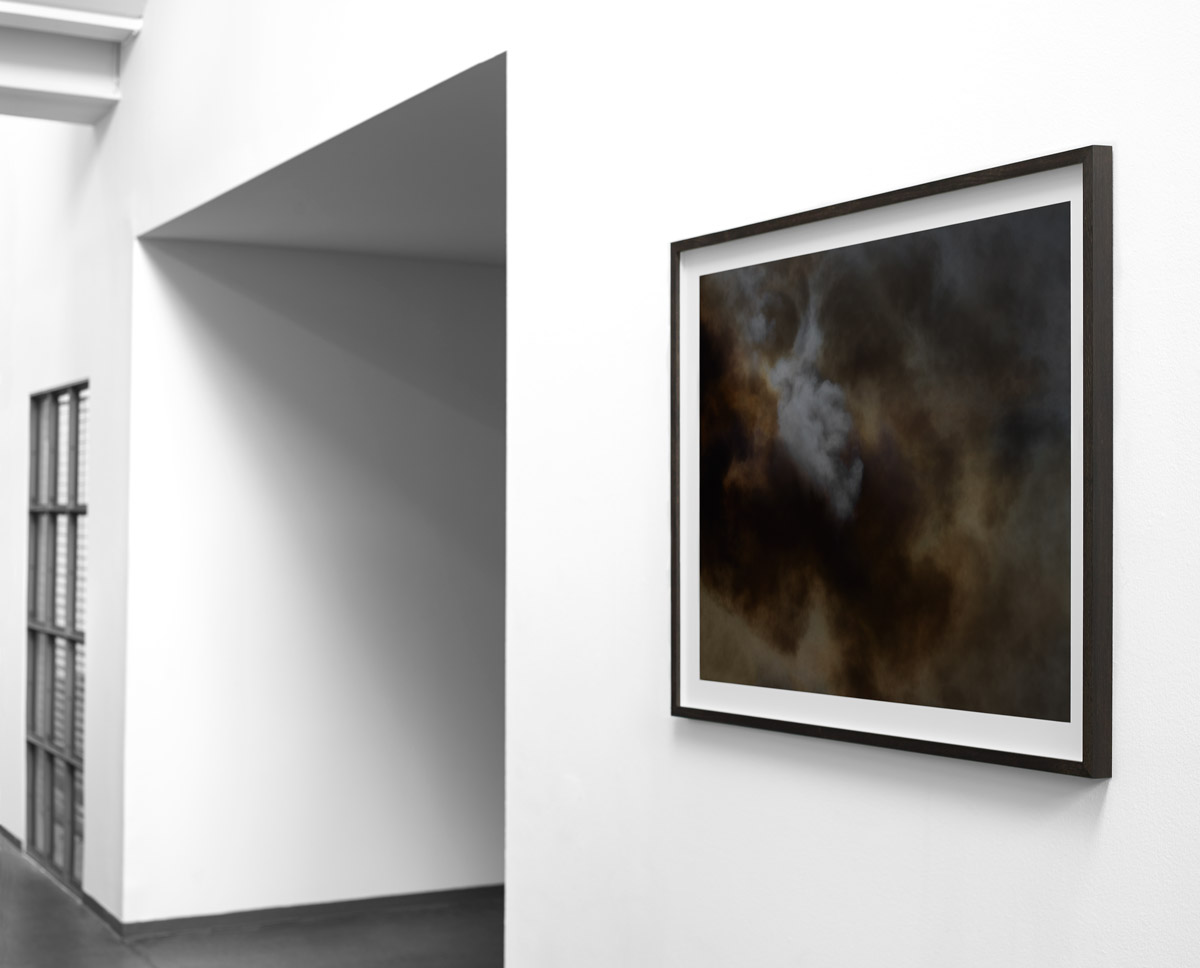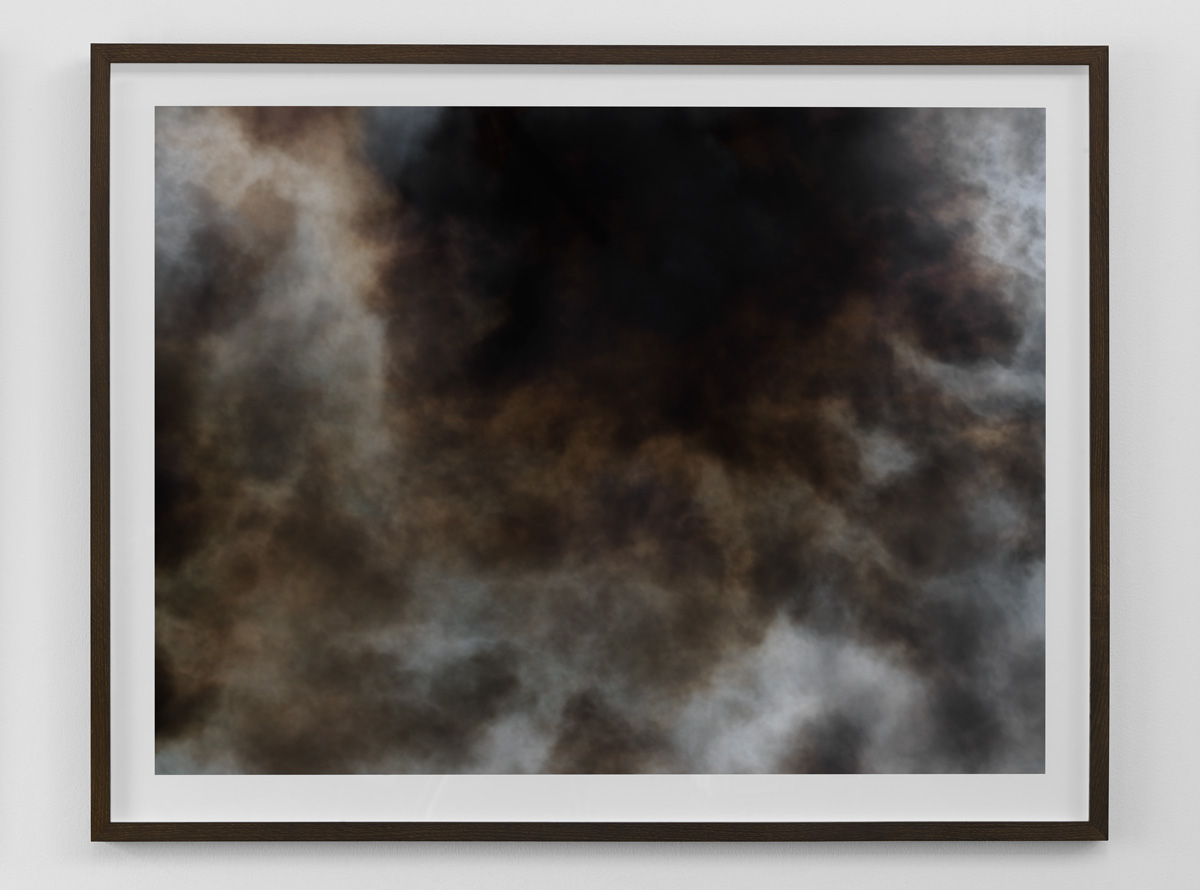 Installation view from the Wildfire photography exhibition in Denmark during Copenhagen Photo Festival
All exhibition prints are in limited edition size 80×103 cm (image size 70×93cm) / 31,5×40,6 in. (image size 27,6×36,6 in.) framed in solid smoked oak on Dibond mount.
The whole stem of the tree is used, which makes each frame unique, showing all the texture & growth rings of the tree.
Prints in the Wildfire series are available in sizes up to 160 x 215 cm (63 x 85 in.)
For inquiries about available edition sizes & pricing please contact us, or visit the buy prints section for general information.
Text & photographs © copyright Kenneth Rimm 2022